Peter Ward THE ART OF EARTH CONNECTION
Can a single action be creatively catalytic in effort and effect?
May we truly listen to the wind and waves
and utter her words for all the world?
Is a prayer from the heart as large as a shout in a crowd?
Only with a relationship and understanding of the natural world can we realistically engage with the challenges, both environmental and social, that we are presently facing. Peter's contemporary practice hopefully enables a sense of reconnection and compassion through the use of appropriately derived materials, and cross-disciplinary actions and events.
expressions of an intimate ecology
A personal practice that expresses Peter's relationship with his local environment through the use of locally sourced materials, site-specific painting and performance, and photography and film. Since 2008 Peter's main area of research has been an EXPLORATION OF EARTH PIGMENTS IN NORTH DEVON.

He is presently studying on the MA ART & ENVIRONMENT course at UNIVERSITY COLLEGE FALMOUTH. The course has been created by Dr DARO MONTAG, experienced lecturer, course leader and process artist, and co-founder of the RANE research cluster based at UCF. Such initiatives are being taken in response to the political and environmental issues and challenges we are presently facing as part of the global community, and in light of the positive and active role that ART may play…
Painting with the Earth/Environmental Art Workshops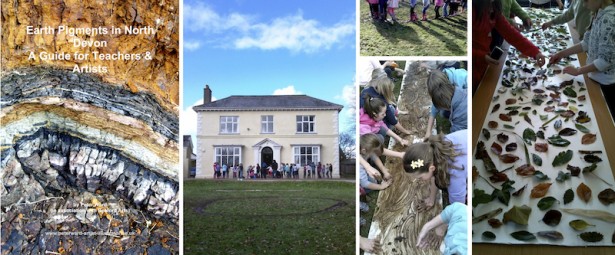 Peter offers a variety of environmental art workshops from painting with earth pigments to interdisciplinary art/science activities for groups of all ages and abilities. The processes involved are increasingly focused on elements of tactile, observational, performative and group involvement with the aim of re-evaluating our relationship with the natural world.
www.peterward-artist-illustrator.co.uk
www.intim8ecology.wordpress.com
www.rane.falmouth.ac.uk
www.beaford-arts.co.uk