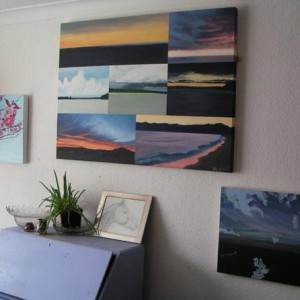 Connect with me
As visual artist, teacher, writer, I enjoy working in a variety of different areas and disciplines. Since completing a Fine Art Degree, my visual work concentrates on painting and photography. I'm passionate in using the arts as a health tool and run art groups in the Mental Health. Travel documentation using creative writing, poetry, photography and drawing is another area I'm working on to become published.



Being magnetised to the sea I went to Swansea to get my BA (Hons) Degree then came back to Westward Ho! where my studio is now situated.
My own practice mainly consists of painting and drawing in all mediums and print. An avid snap-shot photographer, I studied photography at degree level also specialising in using the traditional printing press and digital print.
In my paintings I tend to work most absorbedly with colour and the relationship of subject and space. I enjoy using montage to create new moods and meanings. I also use symbolism and juxtapositions of abstraction with the analytical.
My digital work looks at the relationship between nature and mankind's impact on it, and then in turn nature's impact on man.
I have exhibited in group shows and local establishments; I paint to commission, and for murals and run community art and crafts workshops.
Thriving when working in the community, I've worked with all ages, running courses and workshops for nursery, primary, secondary and adults. Some materials I have used in workshops are ceramics, sculpture, mosaic, cob and willow.
Yearning to be creative in a 'useful' way, I have worked with art that addresses environmental issues and also in the Health sector.
Fascinated in the power of art to heal, I have obtained various teaching qualifications and training in 'Art and Health' and counselling and have set up, taught and run various therapeutic art groups in the Mental Health day services, including organising group craft shows and exhibitions.